Providing evidenced-based Applied Behavior Analysis (ABA).
Our accredited program provides comprehensive Applied Behavior Analysis (ABA) and Early Intensive Behavioral Intervention (EIBI) services using current best practices in the field of behavior analysis.
ABA is the science of looking at the circumstances surrounding behaviors.  By identifying what happens right before and immediately after the behavior, behavior analysts can alter the events to shape or teach replacement behaviors to improve the lives of those being served.
For more information, please visit www.bacb.com
This intervention consists of 20-40 hours of intensive 1:1 treatment under the direction of a Board Certified Behavior Analyst (BCBA) and for our state funded services by the Division of Developmental Disabilities a master's level therapist can provide program management under the supervision of a BCBA. The program manager is responsible for creating individualized goals and objectives based on assessment. These programs are implemented by behavior technicians in the home, community, clinic, and activity sites. Collaboration and consistency are very important for a successful EIBI program and therefore families, specialty therapists, and teachers must all work together for the best possible outcome. EIBI has abundant research with respect to its effectiveness for children under the age of 5, specifically those who begin treatment at age two.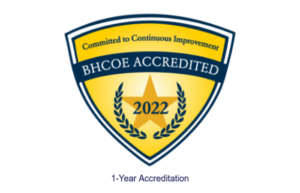 A BHCOE Accredited ® Organization is an applied behavior analysis provider that has demonstrated it has met and continues to meet an assortment of clinical and administrative standards as determined by an independent third-party evaluator.
Who provides accreditation? 
BHCOE Accreditation is a trusted source that recognizes behavioral health organizations committed to continuous quality improvement. Please visit www.bhcoe.org.
Can Anyone become BHCOE Accredited? 
No, providers are not given the accreditation, it is earned. Providers are evaluated on a number of measures related to clinical quality.
What does accreditation mean for the organization's clients? 
The BHCOE Accreditation serves as a consumer protection mechanism that indicates the organization adheres to quality improvement, transparency, and accountability. Collectively, BHCOE's lead a growing movement of behavioral health providers that aim to increase the collective quality of services across the United States. The BHCOE Accreditation requires that the company continue to meet the Code of Effective Behavioral Organizations.
What does accreditation mean for the organization's employees? 
The BHCOE distinction demonstrates to employees that their company cares about their feedback, is able to look internally, and can set goals for continuous improvement. The BHCOE distinction demonstrates a company's commitment to complaint resolution. Accredited providers are required to respond to compliance concerns brought forth to BHCOE regarding best practices. Many organizations utilize the compliance process to ensure that consumers and staff have a voice to file compliance concerns and resolve any areas of improvement internally. Think of the compliance review process as a mechanism to create a complaint resolution process that relies on independent third-party evaluation.
OBTAINING SERVICES
Our BPS team supports consumers who qualify under Division of Developmental Disabilities (DDD) Early Childhood Autism- Specialized Habilitation (ECA) and private pay consultation services.
For DDD services, a child must have an autism diagnosis or at risk for autism to qualify for the ECA program. This program is a time limited Early Intensive Behavioral Intervention that covers specialized habilitation until the age of 7 or until first grade. A child must be evaluated before the age of 5 to receive this service.
Our private insurance Applied Behavior Analysis (ABA) therapy is dependent on individual insurance plan's coverage for autism services. It requires a prescription from a doctor for ABA services and a recent diagnostic evaluation report for preapproval.
We are now contracted with both Mercy Care and United Health Care Community Plan for Applied Behavior Analysis (ABA). This is excellent news for our families who wanted to receive support services for their loved one that was not previously covered. 
For more information about obtaining and funding BPS services, please contact our Consumer Resource Administrator.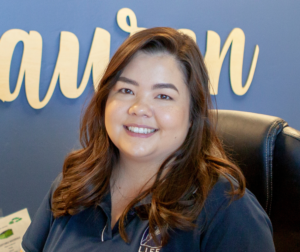 SARA KLEINMAN
Consumer Resource Administrator
480-621-8361 EXT 104
DTT is a foundational teaching strategy in ABA.  During DTT the skills are broken down into small components, so they are easier to teach.  The BT provides the instruction and delivers an immediate reward (i.e. toy, tickles, break) to the client when given a correct independent response. This reward acts as reinforcement for the expected behavior so that it is more likely to happen again in the future.  If the consumer produces an incorrect response the BT will then provide consequences such as a prompt or error correction procedure.
In ABA, a request is defined as a "mand."  It is essential that we teach consumers how to get their needs met and how to ask for information.  During Mand Training we first identify strong motivators so that the consumer may be more inclined to indicate their interest in those items.  Next, we then determine what the desired response will be.  This could be a vocal word or approximation, a sign, and/or a communication device.  Immediately after the consumer mands for an item the instructor will deliver the item.  Over time, and with consistency, the consumer will learn that the items they desire will be available to them when they request the item with instructor present.
NET focuses on the interest of the learner.  During NET the BT focuses on what the learner gravitates to during their daily routines and utilizes that opportunity to capture the learner's motivation within the environment so that they can focus on specific targeted skills and tasks.  This allows the learner to have some control of the learning environment which minimizes problematic behaviors.  NET is a great model for family members because it is easily implemented.
PRT is much like NET, except that it is much more contrived and focuses on specific core skills.  These skills may include socialization, responding to more than one cue, self-regulation, and increasing motivation.  Research has demonstrated that by focusing on these core skills learners will typically increase their success in other domains as well.
FBA helps to identify why a behavior is happening and provides insight on how to shape that behavior or replace it with a more appropriate behavior.  The BCBA will identify the targeted behavior(s) and observe those behaviors to determine what events and situations may be triggering and/or maintaining them.  Once the data has been collected the BCBA will determine what functions the behaviors appear to serve. A behavior plan is then developed to teach the alternative behavior.
RESEARCH
Behavioral Programming and Support (BPS) is a field that utilizes evidence-based (research supported) practices. Here are a few peer-reviewed research articles we have referenced on these BPS pages and a few key articles in the field.
Brosnan, J., & Healy, O. (2011). A review of behavioral interventions for the treatment of aggression in individuals with developmental disabilities. Research in Developmental Disabilities. 32, 437–446.
Eikeseth, S., Smith, T., Jahr, E., & Eldevik, S. (2007). Outcome for children with autism who began intensive behavioral treatment between ages 4 and 7: A comparison controlled st Behavior Modification, 31, 264-278.
Rebecca MacDonald, Diana Parry-Cruwys,  Sally Dupere,  William Ahearn (December 2014). "Assessing progress and outcome of early intensive behavioral intervention for toddlers with autism." Research in Developmental Disabilities, 35, no. 12
Sallows, G.O., & Graupner, T.D. (2005). Intensive Behavioral Treatment for Children With Autism: Four-Year Outcome and Predictors. American Journal on Mental Retardation, 110, 417-438.
Sigmund Eldevikabc, Richard P. Hastingsa, J. Carl Hughesa, Erik Jahrd, Svein Eikesethb & Scott Crosse (2009). "Meta-Analysis of Early Intensive Behavioral Intervention for Children With Autism." Journal of Clinical Child & Adolescent Psychology, 38, no. 3.
Ventola, PE; Yang D; Abdullahi S; Paisley CA; Braconnier ML; Sukhodolsky DG; (2016). "Brief Report: Reduced Restricted and Repetitive Behaviors after Pivotal Response Treatment." Journal of Autism Developmental Disorders, Aug; 46(8):2813-20.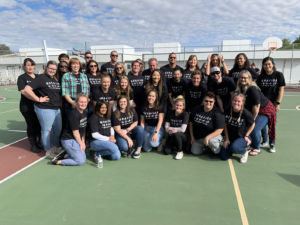 Our BCBAs are required to have a graduate level degree or above from a qualified institution in one of the following fields of study; education, behavior analysis, or psychology.
BCBAs are responsible for skill and behavioral assessments, creating individual treatment plans, supervision of the Supervisees/BT/RBTs, and family training.
The BCBAs work very closely with Supervisees, BTs, and RBTs to assist them in gaining the skills necessary to increase their fluency in implementing treatment plans as they are designed.
Our Supervisees must complete 1500 hours of fieldwork experience to sit for the National Board Certification exam by the Behavior Analyst Certification Board. Once passing this certification, they can become licensed in the state of Arizona to provide ABA services.
LIFE has made a commitment to excellence by only hiring Behavior Technicians (BTs) and Registered Behavior Technicians (RBTs) who have, or are obtaining, their bachelor's/master's degree in a related field and/or on the professional track to becoming a BCBA.
Behavior Technician (BT): BTs are responsible for the implementation of the treatment package as designed by the BCBA. They are the direct staff that take the data and are the first responder when a behavioral situation emerges.
Registered Behavior Technicians (RBTs): RBTs are BTs that have completed 40 hours of training in ABA and passed a competency-based assessment conducted by a BCBA and then passed the Behavior Analyst Certification Board exam to become a Registered Behavior Technician.
Contact Us

for More Information About

L.I.F.E.
call us at 480-621-8361 EXT 136 or complete this form