L.I.F.E. Academy
serves students with disabilities ages 3-21 years old
We currently have multiple classrooms that support students with a wide array of cognitive, physical, and emotional needs. Our classrooms utilize research-based curriculum and our teachers are supported by our L.I.F.E. Academy Resource Team. Many of our students receive on-site therapy and behavior support. We also hold consult meetings between teachers, therapists, behavior specialists, and administrators to discuss classroom needs and collaborate on how to best serve each student in the classroom. Finally, we have many amenities on our campus to truly make education fun and engaging!
Business Hours
8:30 a.m. – 3:45 p.m.
All classes begin
at 8:30 a.m.
Specific student's end times vary by classroom
and participation in other L.I.F.E. programs
Selected Curriculum
Our L.I.F.E. Academy utilizes multiple well-established curriculum designed to help all our students progress in their academic skills.
Enhancements
Our unique transdisciplanary approach and commitment to providing specialized services, enable us to provide multiple enhancements to our L.I.F.E. Academy.
The L.I.F.E. Transition Program is for students 14-21 years. We currently have two program options: Quality Living and Functional Living.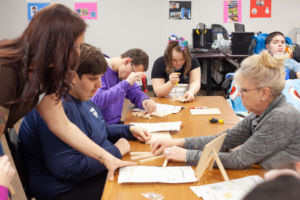 After-School Program (DTT)
Our Day Treatment and Training (DTT) program provided through DDD funding, is currently offered to a variety of age groups here at L.I.F.E. Our programs focus on building social skills through a fun environment. All the activities such as social games, crafts, and events, during the week are centered around a specific theme.
If you are interested in this DDD service, please contact Ashley Watzke for further detailed information.
Summer Program (DTS)
We hold an inclusive summer program here at L.I.F.E.. It is a carefully planned multi-week camp that features fun themes and activities for children with disabilities and typically developing peers.
Funding:
The program is funded through the Arizona Division of Development Disabilities (DDD).
Program Details:
Small class sizes
Classes include children with disabilities and typically developing peers
Functional outcomes for program participants are set by guardians and addressed through program activities throughout the summer
Weekly activities are based on fun themes (i.e. super heroes, animals, magic etc.)

Activities include: art projects, games, and more
Visiting guests may include: Karate instructor, reptile lady, magician, and more

Water play with pool and splash pad (age and classroom determined)
Academy Teachers
We have wonderful caring teachers at L.I.F.E. They work diligently to support all students in their classrooms and continue to advance their skills through our regular Professional Learning Communities. We also ensure our teachers maintain their commitment to excellence through regular fidelity reviews and our supported by our resource team.
Academy Resource Team
The Academy Resource Team assists students with medical and behavioral support needs and provides physical education and music therapy classes. Additionally, the resource team provides support to teachers with curriculum, professional development, daily classroom needs, and communication with families.
Contact Us

for More Information About

L.I.F.E.
call us at 480-621-8361 EXT 127 or complete this form