L.I.F.E. Academy
serves students with disabilities ages 3-21 years old
We have multiple classrooms that support students with a wide array of cognitive, physical, and emotional needs. We believe in tailoring education to a student. We develop individualized learning plans and use research supported curriculum.  Many of our students receive on-site therapy and behavior support and all our departments work together in a transdisciplanary approach. We are also fortunate to have a beautiful campus with many  fun and engaging environments and programs.
Accredited Academy
Our academy received a 5-year accreditation on February 11, 2021! L.I.F.E. believes it is not enough to simply say we are excelling in our model of teaching and learning, but we want to have the means to demonstrate excellence and provide data-proven results and accountability. We are so proud to be accredited with Cognia and to have been rated in the highest categories. We hope this brings our families a sense of peace in their choice to place their student with us and that it brings further pride to our staff who have chosen to call L.I.F.E. their home.
Business Hours
8:30 a.m. – 3:45 p.m.
All classes begin
at 8:30 a.m.
Specific student's end times vary by classroom
and participation in other L.I.F.E. programs
Calendar for 2020-2021
download this year's school calendar
At L.I.F.E. we strive to offer affordable services to families in their effort to provide the very best for their child.
Learn More
Individualized Education
Our L.I.F.E. Academy develops an individualized learning plan for each student and utilizes multiple well-established curriculum designed to help all our students progress in their academic skills.
Enhancements
We are fortunate to be able to provide multiple enhancements to our L.I.F.E. Academy and campus.
I support all the administrative side of the Academy including staff hiring, coordinating community partnerships, coordinating events and activities on campus, and overseeing the resource team.
Education:
Education in elementary education at Ottawa University, 2008-10
Advanced training on current curriculums
Career History:
Prior to L.I.F.E. I operated an in-home preschool then I worked in priority pre-school in the public setting then I found my home at L.I.F.E. in 2008. I became one of the first lead Academy teachers for L.I.F.E. I was a Lead Teacher until 2014 when I became the Director of Academic Services and Administration.
Personal:
I have been married for 29 years and I have 3 children who have all become part of the L.I.F.E. staff family! I have 3 grandchildren. Family and church are the center of my home life.
As the Director of Student Services, I have the honor to help families onboard their child/ren to receive an education at L.I.F.E. I oversee parts of the enrollment process including tours, placement assessments and recommendations as well as help families secure the appropriate scholarships to afford their child the opportunity to receive the private education they deserve. I oversee and assist teachers to best serve and meet the needs of each individual child. This includes writing relevant goals, choosing appropriate curriculum, making modifications and accommodations. I help ensure we are catering to each student's learning styles and abilities and that the progress is being tracked along the way.
Education:
M.A. in Elementary Education, Montana State University – Billings, 2009
B.S. in Business Management and Entrepreneurship, Montana State University -Bozeman, 2006
Career History:
After completion of my student teaching and graduating with my education degree, I began working with children with developmental disabilities within the Special Education field. I was able to provide 1-1 support for a student with Down Syndrome, teach in a classroom with students with extensive support needs, and serve as a 5th grade general education teacher. Born and raised in Montana, my husband and I up and moved to Arizona in November of 2011. I joined the L.I.F.E. team in December of 2011 as a teacher and taught for 4 years. As the L.I.F.E. Academy continued to grow so did I. I started taking on more and more administrative duties and really enjoyed helping families in a different capacity which went beyond the classroom. In 2016 I took over full time as the Director of Student Services.
Personal:
My husband, Jeff, and I were both born and raised in Montana. We moved to Arizona with only our personal belongings and what we could fit into our Ford Escape to chase the beautiful weather. We have enjoyed building our lives in Arizona and have since added two children to our adventure. Between work life and personal life, we stay busy. We enjoy hiking, exploring this great state and being outdoors. We jump at any opportunity to get back to Montana, visit family and especially spend time on Flathead Lake!
Academy Resource Team
The Academy Resource Team assists students with medical and behavioral support needs and provides special programs like physical education, recreational therapy, and adaptive recess. Additionally, the resource team provides support to teachers with curriculum, professional development, daily classroom needs, and communication with families.
Role: 
As the Curriculum and Professional Development Manager I have the honor to assist not only the student's, but the teachers as well. My job consists of running staff fidelities, training staff, running professional learning communities, assessing curriculum, collecting data, monitoring student progress, and being support for the teachers to help them grow in their profession. In addition, I help with placement assessments for new students, help write and monitor the ILPs, progress reports and curriculum assessments. I work with the teachers to make modifications, choose the appropriate curriculum and writing interventions when needed for a student's success.  
Education and Special Certifications: 
M.Ed. in Curriculum and Instruction, Teaching and Learning, Applied Behavior Analysis, Arizona State University, December 2011 

 

B.A. in Secondary Education, Arizona State University, December 2009 

 
Career History:  
I started my career at L.I.F.E.  in 2014. Before L.I.F.E. I worked at a Jr. High school as an English teacher in Gilbert and as an Applied Behavior Analysis (ABA) provider at another agency here in Arizona. Through my internship through Arizona State University, I was able to work with many populations over the 2 years of the program. I also worked within client's homes for 2 years before starting on the L.I.F.E. campus. In 2014 I came to L.I.F.E. as an ABA provider. I provided services within the home and with students as their 1:1 in the classroom. I then took over a classroom in November of 2014 and taught 4-6 grade. In 2015 I taught an ABA preschool/kindergarten classroom and then in 2019 I taught a 1st-3rd grade classroom while simultaneously starting the position of Administrator of Curriculum and Professional Development.  
Personal:   
I am originally from Rochester, NY. I lived there until I was 10 and then my family moved to Arizona. I have a very small immediate family, just my parents and my sister, but a very large family in-law. I was married in 2019 and through that I now have 8 brothers-in-law (2 are married into the family), and 6 sisters-in-law (3 are married into the family). Two of my brothers-in-law are on the autism spectrum, so I have a very real perspective on school life vs. home life. I love to travel to visit family or up north to escape the heat in the summer and see snow in the winter, read books (especially Harry Potter), and be with family. I am a true homebody. 
Here at L.I.F.E. I support the Academy in providing physical education, group recreational therapy, Special Olympics Healthy Leap Into Fitness Program, 1:1 recreational therapy, and managing the Adaptive Recess Program, and holding the Annual Run, Walk and Roll Fundraiser. I also provide recreational therapy in the summer program and run other programs to promote health and recreation on campus.
Education:
B.A. in Parks & Recreation Management, Arizona State University, 2012
Therapeutic Recreation, Arizona State University, 2012
Special Certifications:
Jeff Ellis & Associates Lifeguard, CPR, First Aid
Ai Chi Certification
Starfish Aquatics Institute Swim Instructor
ACA- Level 1 Kayaking Instructor
National Council for Therapeutic Recreation Certification (CTRS)
Silver Sneakers Classic and Splash Certification
Certified Lifeguard, CPR, First Aid Red Cross of America
Expertise:
Adaptive group fitness and sports
Aquatics
Fitness programs to promote health of individuals with disabilities
Leisure outings, leisure education
Career History:
Prior to coming to L.I.F.E., I worked as a Recreational Therapist at Ability360 Sports & Fitness Center and well as inpatient and outpatient at Rehab Without Walls. I have provided individual and group therapy sessions to a wide variety of abilities and ages including those with developmental, physical, behavioral, and social deficits. I joined the L.I.F.E. team August 1st, 2019.
Personal Treatment Philosophy:
I use a team and holistic approach while using play and leisure activities to focus on obtaining certain individual's goals.
I am from the northern mountains of Flagstaff, Arizona and came to Phoenix to play college soccer. Sports have played a vital role in my life. When I am not working, I enjoy time with my son Brecken and husband Nicholas.
Role:
I support all the L.I.F.E. Academy classrooms with students that demonstrate behaviors and do not already receive Behavioral Programming and Support (BPS). I help teachers and staff to determine the function of a child's problem behavior and how to appropriately address the behavior.
Education:
M.Ed. in Curriculum and Instruction with a specialization in Applied Behavior Analysis, Arizona State University, May 2014
B.S. in Family Child Science, New Mexico State University, May 2011 Special Certifications:
Arizona Board of Psychology Licensed Behavior Analyst, Oct 2017
Board Certified Behavior Analyst (BCBA), August 2017
Career History:
I began working at L.I.F.E. in October 2014 with the BPS department as a 1:1 provider. In January 2016 I began working as a program manager. In August 2017, I sat for my BCBA exam and passed. In December 2018, I began working in the Academy to provide behavior support to the students and teachers. Prior to coming to L.I.F.E. I worked as a Family Support Specialist at Healthy Families Arizona doing parent education.
Training Philosophy:
I feel that the greatest success I have in this position is when I get to see the clients initiate and respond to social interactions. Celebrating all victories is important no matter how big or small they seem. To know that we are making a difference in these children's lives is why I do what I do.
Personal:
I am from El Paso, Texas. My mom and 3 sisters still live in Texas and I get to see them on holidays. When I am not at L.I.F.E. you may find me at concerts, particularly country, and cheering on the Dallas Cowboys during football season.
I support L.I.F.E. Academy students with medical needs. I may assist with G-tube feeding, seizure emergencies, medications, breathing treatments, and First Aid. I keep track of all medical documents and keep protocols up to date to help ensure student safety.
Career History:
My career here at L.I.F.E. started back in 2016. I came to L.I.F.E. as a service learner from Arizona State University (ASU) when I was obtaining a special education degree. After my class ended at ASU, I knew I couldn't leave L.I.F.E.. I was hired on full time as a paraprofessional in a classroom supporting some the older consumers on campus. After one year, I took on a lead paraprofessional position and realized my love for the medical aspect on campus. This same year, I obtained my EMT certification with hopes to soon apply for nursing school. After the school year as a lead paraprofessional, I left L.I.F.E. for about 6 months to forward my career in the medical field. I constantly missed the kids and environment at L.I.F.E. and knew I had to go back. In July of 2019, I was offered the Academy Resource Team- Medical Professional position to better support the students on campus. I love every second of it!
Education and Special Certifications:
National Registered Emergency Medical Technician, June of 2018.
Arizona State Certified Emergency Medical Technician, June of 2018.
Advanced Cardiovascular Life Support, May of 2019.
Personal Teaching or Management Philosophy:
"You get what you work for. Not what you wish for." – Howard A. Tullman
Personal:
When I'm not working or going to school… I'm probably spending time with Nick my boyfriend, family, and friends. Nick and I are big football fans and spend most of the Fall watching college and NFL ball. Go Cowboys and Sun Devils!! Besides working at L.I.F.E., I also provide respite care in the community and work as an EMT seasonally for a youth tackle football organization. And on top of all of that, I'm currently working on obtaining my degree in nursing. One day I hope to work in the emergency room at a children's hospital like Phoenix Children's.
The L.I.F.E. Transition Program is for students 14-21 years. We currently have two program options: Quality Living and Functional Living.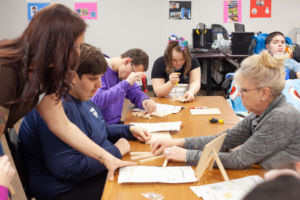 Day Treatment and Training (DTT)
Our Day Treatment and Training (DTT) program provided through DDD funding, is currently offered to a variety of age groups here at L.I.F.E. The program is centered around individualized DTT goals which are addressed through various fun activities and in our multiple treatment environments.
If you are interested in this DDD service, please contact Ashley Watzke for further detailed information.
Role:
As the Manager of Day Treatment and Employment, my job is to ensure we are providing the best service we can while ensuring we are always following the guidelines set forth by the Division of Developmental Disabilities (DDD). I create and follow through with any policies and procedures we need for our programs. I work with consumers, their families, and DDD Support Coordinators to create functional and meaningful goals for our consumers. I train and assist staff in all programs so they can support our consumers in these goals to the best of their ability. I am also part of L.I.F.E.'s Leadership Team. This team meets regularly to discuss ways to continue to improve our services. We work collaboratively in this effort in our unique transdisciplinary approach.
Career History:
I have been lucky to work in different settings since August of 2008, serving children and adults with developmental disabilities. I have been with L.I.F.E. since July 2013 where I started as a habilitation provider in the community and then later in the adult program on campus. I quickly fell in love with the values and support L.I.F.E. offered to not only the clients but also to staff and I felt privileged to become and serve as a teacher in the academy, later growing into Student Services Supervisor. I have recently moved into this new role as DTA/DTT/DTS manager. I'm very excited for this adventure and will strive to serve all to the best of my ability.
Personal Teaching Philosophy:
"Love what you do and never work a day in your life" - Unknown
I have been married to my best friend for almost 4 years now and when we are not at work, you can find us chasing around our crazy wild daughters. In 2015, while I was teaching pre- school within the L.I.F.E. Academy, I had a student that at the time was in search of her forever home. Little did I know this little girl would become a huge part of my husband and my life. We adopted her in 2017 and she is now our daughter! As a family we enjoy weekends at home hanging out with our family and going camping when we can! We absolutely live for football season and the Arizona Cardinals; we won't miss a game.
Contact Us

for More Information About

L.I.F.E.
call us at 480-621-8361 EXT 127 or complete this form