L.I.F.E. Academy
serves students with disabilities ages 3-21 years old
We have multiple classrooms that support students with a wide array of cognitive, physical, and emotional needs. We believe in tailoring education to a student. We develop individualized learning plans and use research supported curriculum.  Many of our students receive on-site therapy and behavior support and all our departments work together in a transdisciplanary approach. We are also fortunate to have a beautiful campus with many  fun and engaging environments and programs.
Accredited Academy
Our academy received a 5-year accreditation on February 11, 2021! L.I.F.E. believes it is not enough to simply say we are excelling in our model of teaching and learning, but we want to have the means to demonstrate excellence and provide data-proven results and accountability. We are so proud to be accredited with Cognia and to have been rated in the highest categories. We hope this brings our families a sense of peace in their choice to place their student with us and that it brings further pride to our staff who have chosen to call L.I.F.E. their home.
Business Hours
8:30 a.m. – 3:45 p.m.
All classes begin
at 8:30 a.m.
Specific student's end times vary by classroom
and participation in other L.I.F.E. programs
Calendar for 2021-2022
download this year's school calendar
At L.I.F.E. we strive to offer affordable services to families in their effort to provide the very best for their child.
Learn More
Individualized Education
Our L.I.F.E. Academy develops an individualized learning plan for each student and utilizes multiple well-established curriculum designed to help all our students progress in their academic skills.
Enhancements
We are fortunate to be able to provide multiple enhancements to our L.I.F.E. Academy and campus.
Physical Education is provided to classrooms with appropriate and fun physical activities for each unique classroom to foster progress in gross motor skills.
All our students regardless of use of a wheelchair or physical impairments have appropriate recess activities available.
We run multiple Special Olympics programs including Young Athletes, Healthy Leap Into Fitness, Spread the Word Inclusion …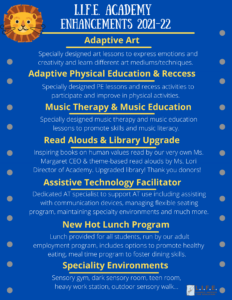 I support all the administrative side of the Academy including staff hiring, coordinating community partnerships, coordinating events and activities on campus, and overseeing the resource team.
Education:
Education in elementary education at Ottawa University, 2008-10
Advanced training on current curriculums
Career History:
Prior to L.I.F.E. I operated an in-home preschool then I worked in priority pre-school in the public setting then I found my home at L.I.F.E. in 2008. I became one of the first lead Academy teachers for L.I.F.E. I was a Lead Teacher until 2014 when I became the Director of Academic Services and Administration.
Personal:
I have been married for 29 years and I have 3 children who have all become part of the L.I.F.E. staff family! I have 3 grandchildren. Family and church are the center of my home life.
As the Director of Student Services, I have the honor to help families onboard their child/ren to receive an education at L.I.F.E. I oversee parts of the enrollment process including tours, placement assessments and recommendations as well as help families secure the appropriate scholarships to afford their child the opportunity to receive the private education they deserve. I oversee and assist teachers to best serve and meet the needs of each individual child. This includes writing relevant goals, choosing appropriate curriculum, making modifications and accommodations. I help ensure we are catering to each student's learning styles and abilities and that the progress is being tracked along the way.
Education:
M.A. in Elementary Education, Montana State University – Billings, 2009
B.S. in Business Management and Entrepreneurship, Montana State University -Bozeman, 2006
Career History:
After completion of my student teaching and graduating with my education degree, I began working with children with developmental disabilities within the Special Education field. I was able to provide 1-1 support for a student with Down Syndrome, teach in a classroom with students with extensive support needs, and serve as a 5th grade general education teacher. Born and raised in Montana, my husband and I up and moved to Arizona in November of 2011. I joined the L.I.F.E. team in December of 2011 as a teacher and taught for 4 years. As the L.I.F.E. Academy continued to grow so did I. I started taking on more and more administrative duties and really enjoyed helping families in a different capacity which went beyond the classroom. In 2016 I took over full time as the Director of Student Services.
Personal:
My husband, Jeff, and I were both born and raised in Montana. We moved to Arizona with only our personal belongings and what we could fit into our Ford Escape to chase the beautiful weather. We have enjoyed building our lives in Arizona and have since added two children to our adventure. Between work life and personal life, we stay busy. We enjoy hiking, exploring this great state and being outdoors. We jump at any opportunity to get back to Montana, visit family and especially spend time on Flathead Lake!
Academy Teachers
We have wonderful caring teachers at L.I.F.E. that work hard to support all students in their classrooms. Our teachers strive for excellence by participating in regular Professional Learning Communities and performance reviews. They are supported by our resource team.
I am responsible for the overall facilitation of programming and staffing within the transition program. My primary goal is to ensure all student's goals are appropriate and programs are successfully being run to achieve maximum results.
Career History:
I graduated in 2009 from Mercy College in Dobbs Ferry, NY with my master's degree in Occupational Therapy (OT). I relocated to Arizona from NY in January of 2009 and completed my final internship and started my career working with the geriatric population, however I knew my passion was working with pediatrics/adolescents, due to a prior teaching career. I went on and worked as a school district Occupational Therapist for three years before joining the L.I.F.E. family in 2013. Prior to moving into my new role as Transition Program Lead Facilitator, I had the pleasure of providing 1:1 direct OT services in the therapy department for a little over 5 years.
Education and Advanced Training:
M.A. of Occupational Therapy, Mercy College, NY, 2009
How Does Your Engine Run? 2012
The Listening Program Provider Certification Course, 2015
Water-Based Interventions for The Pediatric Client, 2016
An Introduction to Assistive Technology for the Pediatric Population, 2017
Out-of-Sync Child: Sensory Challenges and Sensible Solutions, 2017
Personal Teaching or Management Philosophy:
I believe in providing guidance for employees to do their job well. I provide varying tasks related to the job that gives employees experience. This also stretches their abilities and brings growth.
I am married and have a talented teenage son. I enjoy spending the weekends attending dance events with my son. I have a new passion for health and fitness, and recently got involved in obstacle course racing. I am a wanderlust. I love to take flight and set sail any opportunity I can get.
I have been in Education for 14 years. I started working right out of High School when I worked in a self-contained classroom. This will be my 6th year here at L.I.F.E. I was hired on as a Lead Paraprofessional. This is my second year as a Lead Teacher.
Personal Teaching Philosophy:
"If a child can't learn the way we teach, maybe we should teach the way they learn". -Ignacio Estrada
I love this quote as it represents my teaching philosophy. Both teaching and education are not one size fits all.
Personal:
I was born and raised in New York and moved to Arizona when I was 13. When not at work I enjoy spending my time with my parents and friends. I enjoy traveling and going on adventures.
I started at L.I.F.E. in August 2015 in the Behavioral Programming and Support (BPS) Department. Within BPS I worked with clients one on one as a Lead Therapist and acted as a Program Manager. I became a teacher at L.I.F.E. in 2018. Prior to being at L.I.F.E., I was a Clinical Supervisor at Behavioral Dimensions Inc. for 8 years working with clients (ages 2-15) in a one to one setting and in the classroom delivering Applied Behavior Analysis (ABA) services. It was at this time I fell in love with ABA and the way it impacted the children and families I worked with. Before Behavioral Dimensions Inc. I worked at a school for 2 years in a classroom for students with disabilities and learned that every child is unique and has amazing potential.
Education:
• B.A. in Social Work, University of St. Thomas, 2004
Personal Teaching Philosophy:
I have worked with kids my entire life and have a passion for teaching. I've learned many important lessons from the kids I have worked with. The most important lessons include you are never too old to learn, flexibility is essential in life, and having fun while learning is the best way to learn (you can never be too goofy)!
Personal:
I'm originally from Minnesota but have called Arizona home now for 4 years. I have a wonderful husband, Phil, who I have been married to for 9 years. I also have a beautiful daughter who is 8 and two golden retrievers (one who is 10 and the other who is 7 months old). We love baseball in our house and root for the Minnesota Twins every chance we get.
Before joining the L.I.F.E. family, I worked for 2 years in the Special Education department in the public-school setting. I have now been part of the L.I.F.E. family for 6 years. I served as a paraprofessional for two years and through experience and my passion I became a Lead Teacher.
Education and Special Certifications:
• Registered Behavior Technician, Behavior Analyst Certification Board, October 2016
Personal Teaching Philosophy:
I truly love what I do. Nothing brings me more joy than watching a child learn and be successful. Teaching a child what they can do in life is what feeds my passion.
I have been mentored as a teacher in both traditional curriculum and ABA (Applied Behavior Analysis) principals. My classroom is run using ABA principles and techniques. With the support of our behavior department, we are able to personalize behavior plans and target specific skills needed to be in a classroom setting. I enjoy collaborating with other departments on campus to create a well-rounded environment for my students to learn in.
Personal:
I feel very blessed to have been able to stay home and be with my 4 children before entering my career.
I have been a part of the L.I.F.E. family through the Behavior Programming and Support (BPS) department and the Academy since 2015. I am originally for Washington State, after receiving my bachelors, I moved to Arizona to pursue my masters. I began my love of teaching working with children with developmental disabilities as a habilitation provider. Through this experience, I discovered the science of Applied Behavior Analysis and became engulfed in the principles as they pertain to those with developmental disabilities and its application for everyday life. I have always felt a passion to advocate for children in need. I have over seven years of experience assisting foster youth and individuals diagnosed with developmental disabilities.
Education and Special Certifications:
M.Ed. in Curriculum and Instruction: Applied Behavior Analysis, Arizona State University, 2017
B.A. in Human Development, emphasis in family systems, Washington State University, 2014
Personal Teaching Philosophy
I am a strong believer in teaching to the whole child by showing each individual the love and respect they deserve. I am beyond blessed to be a part of this organization and look forward to guiding each child's journey. My philosophy is that education does not have an end, there is always something new to learn.
Personal:
In my spare time I enjoy spending time with my husband Austin, our three dogs Toddy, Hamilton, and Bosco, and four chickens named after Seinfeld characters Little Jerry Seinfeld, Estelle, Roberta, and Delores.
I received my dual bachelor's degree in Early Childhood & Early Childhood Special Education from Arizona State University in 2016. Go Devils! Currently, I am working on my master's degree in ABA through ASU online. I began as a lead paraprofessional at L.I.F.E. in 2016 and was promoted to lead teacher shortly after. After teaching at L.I.F.E., I spent two years teaching in Chandler Unified School district. I worked with children with autism and spent a year teaching general education. It feels great to be back home at L.I.F.E.!
Personal Teaching Philosophy:
I believe that every child can learn. Every child has the ability inside them to grow and advance. Some may learn more than others and in different ways, but all can learn and should be treated with the respect and an open heart. Everyone is unique and has something special that they can bring to their own education. I will assist my students to express themselves and embrace who they are, as well as embrace the differences of others.
Personal:
I was born in Columbus, Ohio and have lived in the valley for 18 years now. I am a huge animal lover! At home we have a Chihuahua mix, Mini Aussie, bearded dragon, leopard gecko, frog, and snakes. I love to travel—spending time at the beach is my favorite! I enjoy spending my free time outside (when it is not 100+ degrees!) and with my friends and family.
I started working at L.I.F.E. in 2017. I have been a behavior technician in the Behavioral Programming and Support department and I have served in the classroom as a paraprofessional and Lead Paraprofessional. I am now entering my 2nd year as a Lead Teacher.
Personal Teaching Philosophy:
In my life I have realized that the little things are what matter most in life, applying this to the classroom is what I will try to achieve daily. I will strive to teach my students the small little steps across all opportunities of learning while accomplishing the big goals. The joy I find in teaching is supporting the students to learn and the joy we share when they do learn new things.
Personal:
I was born and raised here in Arizona and have lived here my whole life. I enjoy hiking the beautiful mountains of Arizona and camping. I love going to Arizona State University football games and watching football in my spare time.
I love working with children. I have been working with children for most of my life in either educational settings, care giving, or through volunteer service. I had the privilege of joining the L.I.F.E. family as a Lead Teacher in September of 2013. I truly love working with the staff and especially with the kids. Before joining L.I.F.E., I worked in the Higley School District in the Priority preschool program for 2 1⁄2 years as a paraprofessional. Before moving to Arizona, I lived in Las Vegas where I taught a preschool classroom for 5 years.
Education and Special Certifications:
I have received training in Handwriting Without Tears, Get Set for School, Social Thinking, Keys to Behavior, Out of Sync Child, Introduction to Assistive Technology. In addition, I have been trained in the adapted curriculum used here at L.I.F.E: FUNdations, Edmark, Saxon math, Connecting Math Concepts, Assessment of Basic Language and Learning Skills (ABLLS)) & Essentials for Living (EFLS).
Personal Teaching Philosophy:
"Every day may not be good, but there is something good in everyday" – Alice Morse Earle
Every child is unique! They all learn in their own way. I believe we must find and teach to each child's needs. They are so very smart, and I strive to find ways to help them show it.
Personal:
I have been married for 33 years and have 5 wonderful children who have married, which gives me a total of 10 children. My favorite part is the 7 amazing grandchildren along with the additional two we are expecting later this year. I love doing things with my family, hiking, biking, swimming, BBQing & traveling with my husband.
Prior to working at L.I.F.E, I spent 6 years with Gilbert Public Schools in the SPICE I Program for children with Autism. I began working at L.I.F.E in February 2014 as a paraprofessional in the kindergarten class. During the 2014-2015 school year I worked as a Lead Paraprofessional in the 1-3 grade classroom, then I was promoted to Lead Teacher in the fall of 2015.
Personal Teaching Philosophy:
"Every student can learn, just not on the same day or in the same way" – George Evans
We all have our own unique way in which we process, comprehend and retain information. Discovering each child's learning style helps us customize learning plans and implement strategies that best suit the child's needs.
Personal:
I was born and raised in Ogden, Utah. A new job brought the family to Arizona in 1996. I have 4 children, 2 girls, 2 boys. In my spare time I like to do fun things with my kids like going to movies, bowling, Top Golf, movie and game nights at home. I also enjoy scrapbooking, making various crafts and planning fun activities for the classroom.
This is my 8th year in the special education world and I absolutely love it! I spent 5 years with Gilbert Public Schools as a kindergarten-first grade teacher for students with Autism. It was amazing! I've spent the last year and a half as the Special Education Coordinator for a charter school in Ahwatukee. I received my degrees from Arizona State University where I earned a Bachelor's degree in Family and Child Development and a Master's degree in Special Education.
Personal Teaching Philosophy:
"Every child deserves a champion- an adult who will never give up on them." -Dr. Rita F. Pierson
I strongly believe that loving relationships are the foundation of learning and growth for our students. Students need to feel safe, loved, and valued before any real learning can occur. My goal is to bring joy, humor, a positive attitude, consistency, and warmth to my classroom each day in order to ultimately inspire and encourage the same traits in my students.
Personal:
I am a Gilbert girl through and through! I attended Houston Elementary, Gilbert Junior High, and Gilbert High School. I have 2 brothers and 1 sister and we all live in Gilbert. Most of my free time is spent with them and my 5 nieces and nephews! Every once in a while I get bit by the travel bug and plan a big adventure. Most recently I visited England, Ireland, and Scotland!
I have been working at L.I.F.E. for about four years. I started as a paraprofessional in the classroom in 2016. In the summer of 2017, I was given the opportunity to move up and become a Lead Paraprofessional. I learned so much during my time being a Lead. My passion for the classroom grew stronger and I soon realized that I wanted to have a classroom of my own. During May of 2019, I took on the role of Lead Teacher. I am very passionate about what I do and wouldn't trade working with our kids for anything. I am so lucky and excited to continue this teaching journey with L.I.F.E.!
Personal Teaching Philosophy:
My philosophy of teaching is that all children are different, therefore it is important to me to teach to each child. I believe in having an encouraging environment where the child will grow mentally and socially. I hope to create this educational setting using different teaching strategies to help the child reach their maximum potential. I will keep my mind open, my attitude positive, and my expectations high. I learned so much during my first year of teaching and I am so thrilled to start my second year with you!
Personal:
I am 24 years old and I'm a Valentine's Day baby! I have some hobbies which include traveling, camping, and playing the piano. I also have a strong love for beauty, makeup and nails. During my free time you can find me spending time with my family, friends, or my boyfriend!
The L.I.F.E. Transition Program is for students 14-21 years. We currently have two program options: Quality Living and Functional Living.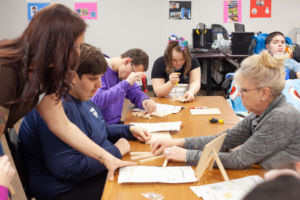 Day Treatment and Training (DTT)
Our Day Treatment and Training (DTT) program provided through DDD funding, is currently offered to a variety of age groups here at L.I.F.E. The program is centered around individualized DTT goals which are addressed through various fun activities and in our multiple treatment environments.
If you are interested in this DDD service, please contact Ashley Watzke for further detailed information.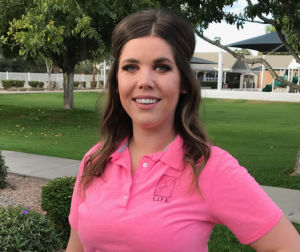 ASHLEY WATZKE
Manager of Day Treatment and Employment- DTA, DTT, DTS, TTE, GSE
Role:
As the Manager of Day Treatment and Employment, my job is to ensure we are providing the best service we can while ensuring we are always following the guidelines set forth by the Division of Developmental Disabilities (DDD). I create and follow through with any policies and procedures we need for our programs. I work with consumers, their families, and DDD Support Coordinators to create functional and meaningful goals for our consumers. I train and assist staff in all programs so they can support our consumers in these goals to the best of their ability. I am also part of L.I.F.E.'s Leadership Team. This team meets regularly to discuss ways to continue to improve our services. We work collaboratively in this effort in our unique transdisciplinary approach.
Career History:
I have been lucky to work in different settings since August of 2008, serving children and adults with developmental disabilities. I have been with L.I.F.E. since July 2013 where I started as a habilitation provider in the community and then later in the adult program on campus. I quickly fell in love with the values and support L.I.F.E. offered to not only the clients but also to staff and I felt privileged to become and serve as a teacher in the academy, later growing into Student Services Supervisor. I have recently moved into this new role as DTA/DTT/DTS manager. I'm very excited for this adventure and will strive to serve all to the best of my ability.
Personal Teaching Philosophy:
"Love what you do and never work a day in your life" – Unknown
I have been married to my best friend for almost 4 years now and when we are not at work, you can find us chasing around our crazy wild daughters. In 2015, while I was teaching pre- school within the L.I.F.E. Academy, I had a student that at the time was in search of her forever home. Little did I know this little girl would become a huge part of my husband and my life. We adopted her in 2017 and she is now our daughter! As a family we enjoy weekends at home hanging out with our family and going camping when we can! We absolutely live for football season and the Arizona Cardinals; we won't miss a game.
Contact Us

for More Information About

L.I.F.E.
call us at 480-621-8361 EXT 136 or complete this form