L.I.F.E. Academy
serves students with disabilities ages 3-21 years old
We have multiple classrooms that support students with a wide array of cognitive, physical, and emotional needs. We believe in tailoring education to a student. We develop individualized learning plans and use research supported curriculum.  Many of our students receive on-site therapy and behavior support and all our departments work together in a transdisciplanary approach. We are also fortunate to have a beautiful campus with many  fun and engaging environments and programs.
Accredited Academy
Our academy received a 5-year accreditation on February 11, 2021! L.I.F.E. believes it is not enough to simply say we are excelling in our model of teaching and learning, but we want to have the means to demonstrate excellence and provide data-proven results and accountability. We are so proud to be accredited with Cognia and to have been rated in the highest categories. We hope this brings our families a sense of peace in their choice to place their student with us and that it brings further pride to our staff who have chosen to call L.I.F.E. their home.
Business Hours
8:30 a.m. – 3:45 p.m.
All classes begin
at 8:30 a.m.
Specific student's end times vary by classroom
and participation in other L.I.F.E. programs
Calendar for 2020-2021
download this year's school calendar
At L.I.F.E. we strive to offer affordable services to families in their effort to provide the very best for their child.
Learn More
Individualized Education
Our L.I.F.E. Academy develops an individualized learning plan for each student and utilizes multiple well-established curriculum designed to help all our students progress in their academic skills.
Enhancements
We are fortunate to be able to provide multiple enhancements to our L.I.F.E. Academy and campus.
Physical Education is provided to classrooms with appropriate and fun physical activities for each unique classroom to foster progress in gross motor skills.
All our students regardless of use of a wheelchair or physical impairments have appropriate recess activities available.
We run multiple Special Olympics programs including Young Athletes, Healthy Leap Into Fitness, Spread the Word Inclusion …
I support all the administrative side of the Academy including staff hiring, coordinating community partnerships, coordinating events and activities on campus, and overseeing the resource team.
Education:
Education in elementary education at Ottawa University, 2008-10
Advanced training on current curriculums
Career History:
Prior to L.I.F.E. I operated an in-home preschool then I worked in priority pre-school in the public setting then I found my home at L.I.F.E. in 2008. I became one of the first lead Academy teachers for L.I.F.E. I was a Lead Teacher until 2014 when I became the Director of Academic Services and Administration.
Personal:
I have been married for 29 years and I have 3 children who have all become part of the L.I.F.E. staff family! I have 3 grandchildren. Family and church are the center of my home life.
As the Director of Student Services, I have the honor to help families onboard their child/ren to receive an education at L.I.F.E. I oversee parts of the enrollment process including tours, placement assessments and recommendations as well as help families secure the appropriate scholarships to afford their child the opportunity to receive the private education they deserve. I oversee and assist teachers to best serve and meet the needs of each individual child. This includes writing relevant goals, choosing appropriate curriculum, making modifications and accommodations. I help ensure we are catering to each student's learning styles and abilities and that the progress is being tracked along the way.
Education:
M.A. in Elementary Education, Montana State University – Billings, 2009
B.S. in Business Management and Entrepreneurship, Montana State University -Bozeman, 2006
Career History:
After completion of my student teaching and graduating with my education degree, I began working with children with developmental disabilities within the Special Education field. I was able to provide 1-1 support for a student with Down Syndrome, teach in a classroom with students with extensive support needs, and serve as a 5th grade general education teacher. Born and raised in Montana, my husband and I up and moved to Arizona in November of 2011. I joined the L.I.F.E. team in December of 2011 as a teacher and taught for 4 years. As the L.I.F.E. Academy continued to grow so did I. I started taking on more and more administrative duties and really enjoyed helping families in a different capacity which went beyond the classroom. In 2016 I took over full time as the Director of Student Services.
Personal:
My husband, Jeff, and I were both born and raised in Montana. We moved to Arizona with only our personal belongings and what we could fit into our Ford Escape to chase the beautiful weather. We have enjoyed building our lives in Arizona and have since added two children to our adventure. Between work life and personal life, we stay busy. We enjoy hiking, exploring this great state and being outdoors. We jump at any opportunity to get back to Montana, visit family and especially spend time on Flathead Lake!
The L.I.F.E. Transition Program is for students 14-21 years. We currently have two program options: Quality Living and Functional Living.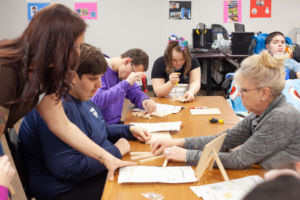 Day Treatment and Training (DTT)
Our Day Treatment and Training (DTT) program provided through DDD funding, is currently offered to a variety of age groups here at L.I.F.E. The program is centered around individualized DTT goals which are addressed through various fun activities and in our multiple treatment environments.
If you are interested in this DDD service, please contact Ashley Watzke for further detailed information.
Role:
As the Manager of Day Treatment and Employment, my job is to ensure we are providing the best service we can while ensuring we are always following the guidelines set forth by the Division of Developmental Disabilities (DDD). I create and follow through with any policies and procedures we need for our programs. I work with consumers, their families, and DDD Support Coordinators to create functional and meaningful goals for our consumers. I train and assist staff in all programs so they can support our consumers in these goals to the best of their ability. I am also part of L.I.F.E.'s Leadership Team. This team meets regularly to discuss ways to continue to improve our services. We work collaboratively in this effort in our unique transdisciplinary approach.
Career History:
I have been lucky to work in different settings since August of 2008, serving children and adults with developmental disabilities. I have been with L.I.F.E. since July 2013 where I started as a habilitation provider in the community and then later in the adult program on campus. I quickly fell in love with the values and support L.I.F.E. offered to not only the clients but also to staff and I felt privileged to become and serve as a teacher in the academy, later growing into Student Services Supervisor. I have recently moved into this new role as DTA/DTT/DTS manager. I'm very excited for this adventure and will strive to serve all to the best of my ability.
Personal Teaching Philosophy:
"Love what you do and never work a day in your life" - Unknown
I have been married to my best friend for almost 4 years now and when we are not at work, you can find us chasing around our crazy wild daughters. In 2015, while I was teaching pre- school within the L.I.F.E. Academy, I had a student that at the time was in search of her forever home. Little did I know this little girl would become a huge part of my husband and my life. We adopted her in 2017 and she is now our daughter! As a family we enjoy weekends at home hanging out with our family and going camping when we can! We absolutely live for football season and the Arizona Cardinals; we won't miss a game.
Contact Us

for More Information About

L.I.F.E.
call us at 480-621-8361 EXT 127 or complete this form