Improving participation skills.
Occupational therapists (OTs) look at what elements support or hinder successful participation, which often includes the environment, sensory processing, behavior, motor skills, language, and cognitive skill development, and then tailor activities for each individual to help them achieve independence and well-being. Occupational therapists and certified occupational therapy assistants then implement these therapeutic activities to target identified concerns.
Our therapists embrace a transdisciplinary approach and communicate with other members of a treatment team to support the whole individual and best outcomes. Families are always welcome and encouraged to attend therapy sessions, are provided a home program to assist with skill acquisition across environments, and are provided quarterly reports from the therapist to keep them informed of progress.
Occupational Therapy Team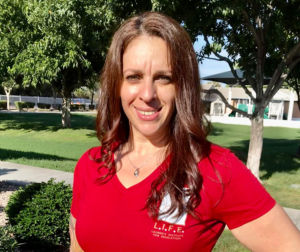 KIM BETANCOURT
Occupational Therapist, (OTR/L)
Education:
Master of Science, Occupational Therapy, 2009
Bachelor of Science, Health Science, 2006
Associate of Science, Early Childhood Education, 2000
Continuing Education and Certifications:
How Does Your Engine Run? 2012
The Listening Program Provider Certification Course, 2015
Water-Based Interventions for The Pediatric Client, 2016
An Introduction to Assistive Technology for the Pediatric Population, 2017
Out-of-Sync Child: Sensory Challenges and Sensible Solutions, 2017
Sensory-Motor Based Feeding Approach, 2018
Career History:
I started working at L.I.F.E. in August of 2013. I provided direct occupational therapy (O.T.)  services until October of 2018, when I became the Transition Program Facilitator.  In September of 2021, I rejoined the therapy team full-time to continue my passion in O.T.   I started my career working with the geriatric population at a skilled nursing facility, however I knew my passion was working with pediatrics/adolescents.   I switched gears and went on to work as a school district Occupational Therapist for three years prior to joining the L.I.F.E. family.
Personal:
I am a NY transplant. I moved out west in 2009. I am a wife and a mother to a multi-talented young man. My son is a competitive street styles dancer and an aspiring music producer. I am a lover of nature. On the weekends you can find me either off roading in my Jeep, hiking, camping or paddle boarding in the beautiful state of Arizona. I am a wanderlust; I will catch a flight or board a ship any chance I get.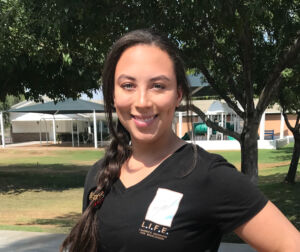 MARIA METTLER
Occupational Therapist, (OTR/L)
Education:
M.A. in Occupational Therapy, Concordia University Wisconsin, Mequon, WI 2020
B.A. in Interpersonal Communication and Psychology, Ball State University, Muncie, IN 2017
Career History:
I began working at L.I.F.E. in July of 2021. Prior to working at L.I.F.E. I completed clinicals at Spooner Physical Therapy and Encompass Health Scottsdale's inpatient rehab working with adults with physical disabilities. I began in the field of Cosmetology at the age of 18 and became a Registered Behavior Technician during my undergraduate years. In college, I worked with College Mentors for Kids and was Vice President of Active Minds, a national organization for Mental Health Awareness. In graduate school, I studied abroad, working at a Cerebral Palsy clinic in Kathmandu, Nepal and a hand therapy clinic for Leprosy in Pokkhara, Nepal. My passion is improve one's quality of life by maximizing functional independence for individuals of all ages, particularly those living with psychological, behavioral, neurological, and visual impairments.
Personal:
I was born and raised in Fort Wayne, Indiana and attended Ball State University for my undergraduate degree in Interpersonal Communication and Psychology. I ultimately chose to move to Arizona for my OT clinical rotations and to follow my fiancé who had recently accepted a job in Phoenix. When I am not working, you can find me hiking and traveling around Arizona, cutting hair out of my home salon, and playing with dogs at the local animal shelter.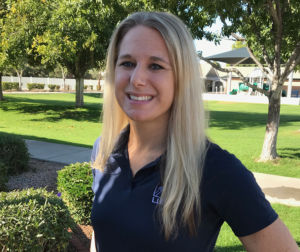 ANGELA OLSON
Occupational Therapist, (OTR/L)
Education:
M.A. in Occupational Therapy, University of North Dakota, Grand Forks, North Dakota, December 2007
Special Certifications:
Therapeutic Listening Program Provider Certification Course 2013
Interactive Metronome
Specific Treatment Strategies, Equipment, or Expertise Utilized:
Yoga and Gymnastics
Neurodevelopmental Treatment (NDT)
Aquatic Therapy (during aquatic season)
Hippotherapy (when program available)
Handwriting without Tears and Size Matters writing programs
Career History:
I began working at L.I.F.E. in January 2008 and have been employed with L.I.F.E. ever since. Prior to working at L.I.F.E. I completed clinicals at the Arizona State Hospital and inpatient rehab working with adult and children with physical disabilities. In college I worked for Easter Seals Goodwill and worked under a BCBA working with children with autism. I have over 10 years of experience teaching gymnastics, cheerleading and swim to children with special needs and currently work with some L.I.F.E. clients on Fridays doing occupational therapy in the gymnastics setting at Aspire Kids Sports Center in Chandler.
Personal:
I grew up in Bismarck, North Dakota. I moved to Arizona to complete my last clinical rotation for Occupational Therapy at the Arizona State Hospital in 2007. I volunteered a short time at L.I.F.E. and fell in love with the family like atmosphere at L.I.F.E. and the organization's philosophy. I enjoy staying active with yoga, dance, martial arts and competing in American Ninja Warrior competitions. I also volunteer coach the Arizona State University (ASU) women's club gymnastics team during the school year.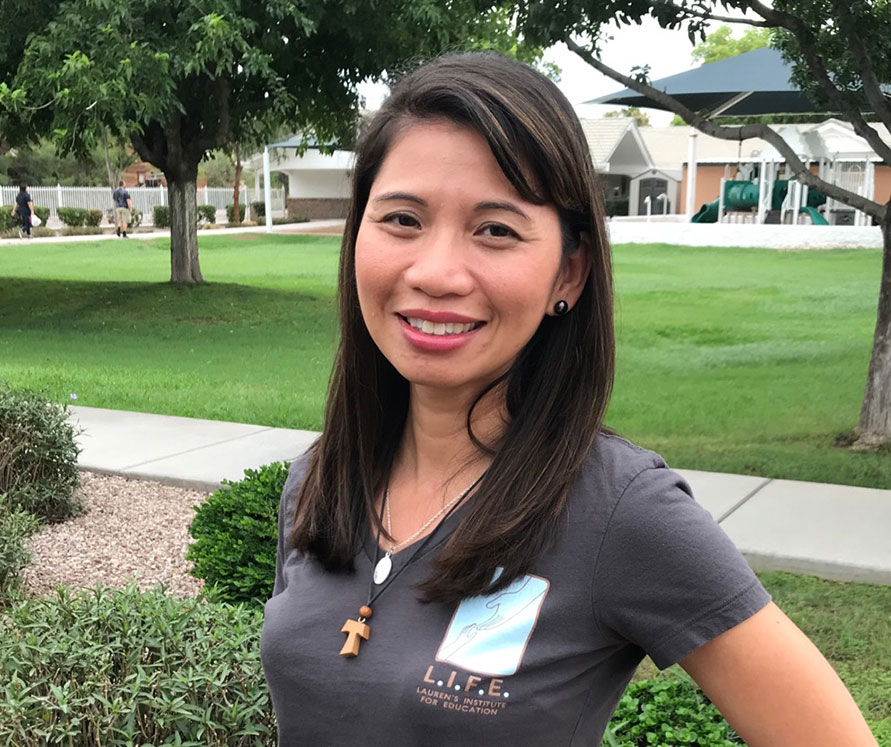 MILDRED (MILLY) PANGILINAN-FLORES
Mentor Occupational Therapist, (OTR/L)
Role:
As a Mentor Therapist, in addition to my caseload, I help manage my discipline's team. I assist the Director of Therapy Services with onboarding new therapists, overseeing assistants, maintaining documentation and session quality, leading discipline-specific meetings, and advocating for my team.
Education and Special Certifications:
M.A. in Occupational Therapy from California State University, 2002.
SIPT (Sensory Integration & Praxis Test) certified, 2003.
Specific Treatment Strategies, Equipment, or Expertise Utilized:
I have always been interested in sensory integration and in treating sensory processing deficits. Most of the training and courses I have taken over the years was to expand my knowledge base in this area. I have received mentorship on sensory integration from Lorna Jean King who collaborated with Jean Ayres on sensory integration. I have taken several courses on sensory integration, on sensory-motor including Neurodevelopmental Treatment from Lois Bly, sensory modulation and self-regulation including How Does your Engine Run, Diana Henry's Tool Chest, Carol Kranowitz's Out of Sync Child, The Listening Program, Zones of Regulation, Julia Harper's RISE (Reflex Integration to Support Education) and How to be a Sensory Chef, and other courses on the Wilbarger Brushing, sensory diets, and other sensory-based courses. From there, I naturally progressed to taking courses on feeding as eating is highly sensory in nature. I recently received training on the SOS (Sequential Oral Sensory) Feeding Approach by Kay Toomey and Associates. I have also taken courses on feeding and oral-motor assessment and treatment through Lori Overland's Sensory-motor Approach to Feeding, Debra Beckman's Oral- motor Treatment, and Jessica Hunt's Complex Feeding Issues. Currently, I am focused on increasing my feeding skills and will be taking more feeding courses in the future. Having worked and trained for many years, I have found that my best training instructors have been my clients. I have honed my skills and have become the occupational therapist that I am today because of them.
Career History:
I started at L.I.F.E. when it first opened in July of 2007 and was one of the 2 occupational therapists. From there, I worked my way up from a mentor to eventually a Clinical Director until 2018. I have treated, created programs, and managed therapists for L.I.F.E. since then. I recently returned to treating full-time in September of 2018 and enjoying every minute of it. My very first job as an occupational therapist was at a pediatric outpatient clinic at Simi Valley Hospital in California in 2002 where I did my pediatric rotation. When I moved to Arizona, I worked at a skilled nursing facility for a few months and at the Children's Center for Neurodevelopmental Studies working in their private school and clinic for a year. Following that, I worked for Horizon Pediatric Therapy at their clinic and in clients' homes until 2007. I also worked at a rehabilitation hospital in Mesa in their in-patient unit to work with adults and the elderly for a year on the weekends while working at L.I.F.E.
Personal Treatment Philosophy:
I see every child I treat as a child of God and deserves my utmost respect, compassion, love, and patience. I believe in gaining their trust and meeting each client at their level and pace and being part of the therapy process and environment, which we call the 'therapeutic use of self'. I also like to have fun as I am silly and playful in nature. But more importantly, I believe in having the parents and family members as my treatment partners especially when coming up with goals that are relevant, functional, and meaningful to them and their children.
Personal:
I have been happily married since 2005 to my husband who is my best friend. I spend my free time teaching the faith to typical and children with special needs at my church, volunteering for my church and the community, spending time with my husband, and living my Catholic faith to live a holy life.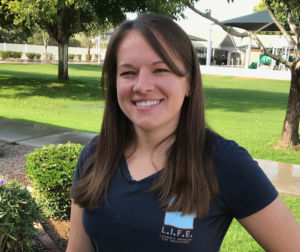 JAMIE SULLIVAN
Occupational Therapist, (OTR/L)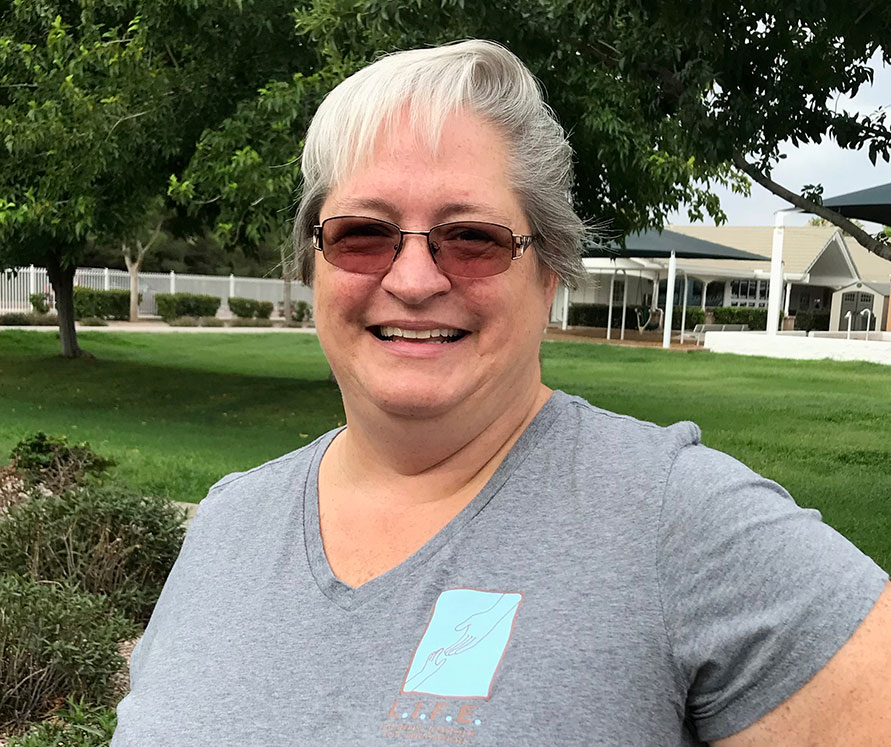 DONNA EVANS
Certified Occupational Therapy Assistant, (COTA/L)
Education:
 A.A. of Applied Science in Occupational Therapy, Apollo College, November 1995
Specific Treatment Strategies, Equipment, or Expertise Utilized:
I use of variety of strategies and techniques acquired over my 20+ years in OT.
Experience with assistive technology for the visually impaired
Career History:
I started at L.I.F.E. in March 2018. Previously I worked in hospital based inpatient, outpatient, aquatic therapy, acute rehab, subacute rehab, skilled nursing within the Banner Health and Scottsdale Healthcare systems, as well as home based pediatric OT. I have served many populations including all age groups with physical (orthopedic and neurological) disorders, multi-trauma victims, various genetic disorders, and autism spectrum disorder.
Personal Treatment Philosophy:
I believe in getting to know each individual client and what they enjoy and respond best to. I then use their likes and interests to help build on their skills in ways that address their individual goals.
Personal:
I live in Mesa, Arizona with my husband and two dogs. I have two adult children and one granddaughter. I volunteer three hours a week since 2008 with Lutheran Braille Workers, providing Braille and large print materials for the visually impaired throughout the world. I also enjoy singing in the church choir, and riding my Harley Davidson Tri-Glide.
Contact Us

for More Information About

L.I.F.E.
call us at 480-621-8361 EXT 136 or complete this form