Feeding Therapy
Feeding therapy is provided by occupational therapists or assistants (OT/OTAs) or speech therapists or assistants (SLP/SLPAs) that have obtained additional training in the specialty of feeding therapy.
They use carefully chosen interventions to improve oral motor skills to reduce concerns like gagging, choking, or aspiration and improve the ability to chew and swallow. They also provide interventions that address concerns such as only eating a very limited number or type of food.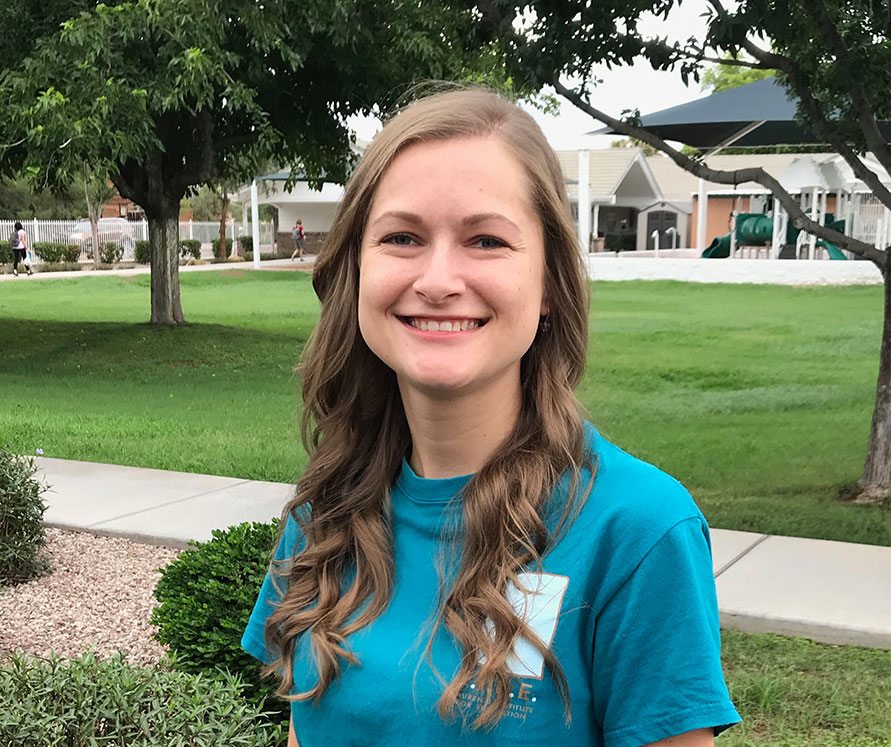 CASSANDRA (CASSIE) LEGGER
Speech-Language Pathologist (M.S., CCC-SLP)
Education:
M.S. in Speech-Language Pathology, Northern Arizona University, with Distinction, 2016
B.S. in Speech and Hearing Science, Arizona State University, Summa Cum Laude, 2013
A.A. in General Studies, Mesa Community College, with Highest Distinction, 2010
Specific Treatment Strategies and Tools Utilized:
I received training on the SOS (Sequential Oral Sensory) feeding approach by Kay Toomey and Associates as well as received hands-on experience with feeding therapy at an outpatient children's hospital setting. I use various speech/language tools such as shared storybook reading, Expanding Expressions Tool (EET), articulation therapy, Augmentative Alternative Communication (AAC), and Social Thinking. I have gained experience with both in-person and telehealth treatment.
Career History:
I began working at L.I.F.E. in January 2019. I previously worked in home health, outpatient, and school settings. I have enjoyed working with children in all settings.
Personal Treatment Philosophy:
I believe it is important to create a fun therapy environment that is welcoming and follows the lead of the child.
Personal:
I currently live with my husband and adorable, fluffy, beautiful cat named Mr. Turdington. I enjoy watching and discussing movies, baking, cooking, traveling, and creating artwork in various forms such as ceramics and sewing. I am one of five kids and I love to spend time with my family.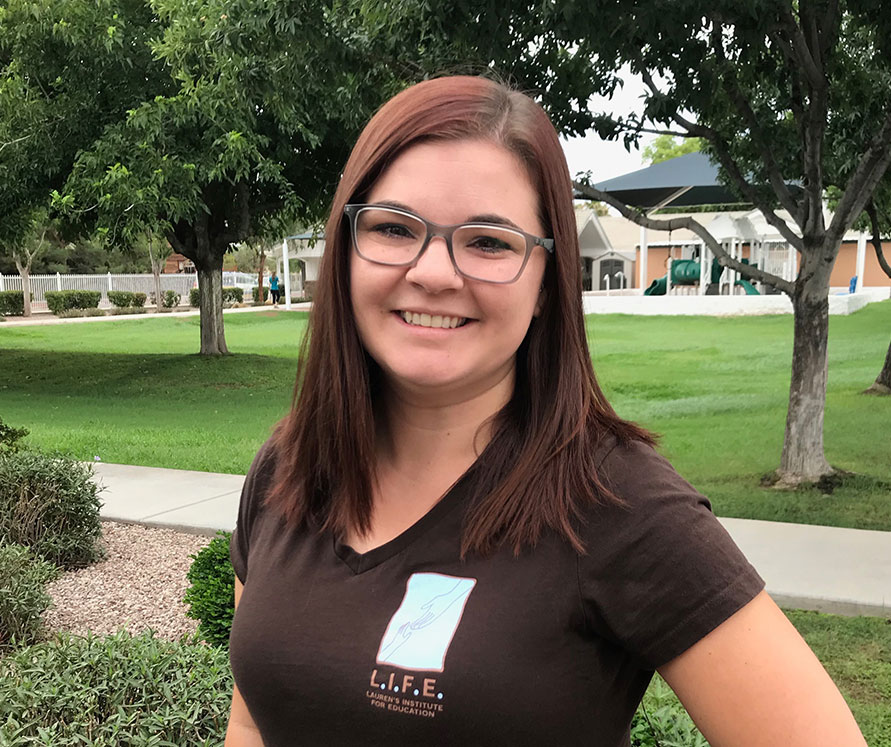 KATRENA (KATIE) PRICE
Occupational Therapist, (MS, OTR/L)
Education:
M.S. in Occupational Therapy, AT Still University, 2014
B.A. in Psychology, B.S. in Family & Human Development, Arizona State Univ., 2006.
Public Ally- Americorps term of service; trainings in leadership, non-profit management and volunteer recruitment and organization, 2010-2011
Career History:
I began working at L.I.F.E. in March 2014, after completing one of my graduate level internships at L.I.F.E. in spring of 2013. Prior to working as an occupational therapist (OT), I had the pleasure of doing habilitation and respite work for several years during college, which is how I discovered occupational therapy in the first place! During a year of service through Americorps in 2010 through 2011, I also had the opportunity to work with low-income youth through another local non-profit called UMOM New Day Centers doing program management for youth and families, which included creating and running a toddler program.
Continuing Education and Certifications:
Since becoming a licensed OT in 2014, I have taken several continuing education courses to expand my "tool box" and increase my ability to use a wide variety of treatment strategies. These trainings/courses have included:

The Listening Program (2015)
Intro to Assistive Tech for Pediatrics (2017)
Aquatic Therapy (2017)
The Out of Sync Child (2017)
Primitive Reflexes and Integration (2018)
Trauma-Informed Intervention (2018)
Sensory-Motor Based Feeding Approach (2018)
SOS Approach to Feeding Therapy Intro Course (2019)
DIR Floortime (2020)
Learn, Play, Thrive Approach to Autism (2020)
Neurological Approaches to Self-Regulation and Sensory Processing (2021)
Personal Treatment Philosophy:
My personal treatment philosophy is always evolving and changing, as I believe it should. When we learn better, we do better! I do strongly believe that our best therapeutic tool is ourselves; our relationship with each child and family is key. Through strong, safe, supportive, and loving relationships is where growth and development flourish. I am also a very big proponent and advocate for treating from the perspective of Neurodiversity and strength-based interventions.
Personal: 
I am happily married to a fellow L.I.F.E. therapist (Zach). We have a daughter, Melody, and a few furry family members at home- a pug and 2 guinea pigs. I love to spend time with my family, read, watch movies, and cook!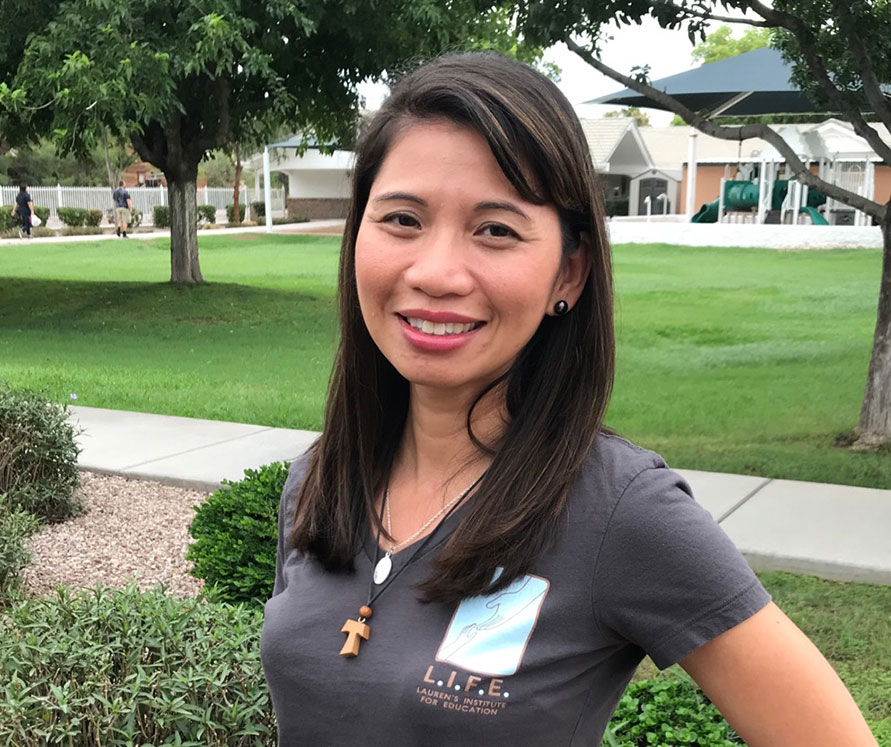 MILDRED (MILLY) PANGILINAN-FLORES
Occupational Therapist, (OTR/L)
Education and Special Certifications
M.A. in Occupational Therapy from California State University, 2002.
SIPT (Sensory Integration & Praxis Test) certified, 2003.
Specific Treatment Strategies, Equipment, or Expertise Utilized:
I have always been interested in sensory integration and in treating sensory processing deficits. Most of the training and courses I have taken over the years was to expand my knowledge base in this area. I have received mentorship on sensory integration from Lorna Jean King who collaborated with Jean Ayres on sensory integration. I have taken several courses on sensory integration, on sensory-motor including Neurodevelopmental Treatment from Lois Bly, sensory modulation and self-regulation including How Does your Engine Run, Diana Henry's Tool Chest, Carol Kranowitz's Out of Sync Child, The Listening Program, Zones of Regulation, Julia Harper's RISE (Reflex Integration to Support Education) and How to be a Sensory Chef, and other courses on the Wilbarger Brushing, sensory diets, and other sensory-based courses. From there, I naturally progressed to taking courses on feeding as eating is highly sensory in nature. I recently received training on the SOS (Sequential Oral Sensory) Feeding Approach by Kay Toomey and Associates. I have also taken courses on feeding and oral-motor assessment and treatment through Lori Overland's Sensory-motor Approach to Feeding, Debra Beckman's Oral- motor Treatment, and Jessica Hunt's Complex Feeding Issues. Currently, I am focused on increasing my feeding skills and will be taking more feeding courses in the future. Having worked and trained for many years, I have found that my best training instructors have been my clients. I have honed my skills and have become the occupational therapist that I am today because of them.
Career History:
I started at L.I.F.E. when it first opened in July of 2007 and was one of the 2 occupational therapists. From there, I worked my way up from a mentor to eventually a Clinical Director until 2018. I have treated, created programs, and managed therapists for L.I.F.E. since then. I recently returned to treating full-time in September of 2018 and enjoying every minute of it. My very first job as an occupational therapist was at a pediatric outpatient clinic at Simi Valley Hospital in California in 2002 where I did my pediatric rotation. When I moved to Arizona, I worked at a skilled nursing facility for a few months and at the Children's Center for Neurodevelopmental Studies working in their private school and clinic for a year. Following that, I worked for Horizon Pediatric Therapy at their clinic and in clients' homes until 2007. I also worked at a rehabilitation hospital in Mesa in their in-patient unit to work with adults and the elderly for a year on the weekends while working at L.I.F.E.
Personal Treatment Philosophy:
I see every child I treat as a child of God and deserves my utmost respect, compassion, love, and patience. I believe in gaining their trust and meeting each client at their level and pace and being part of the therapy process and environment, which we call the 'therapeutic use of self'. I also like to have fun as I am silly and playful in nature. But more importantly, I believe in having the parents and family members as my treatment partners especially when coming up with goals that are relevant, functional, and meaningful to them and their children.
Personal:
I have been happily married since 2005 to my husband who is my best friend. I spend my free time teaching the faith to typical and children with special needs at my church, volunteering for my church and the community, spending time with my husband, and living my Catholic faith to live a holy life.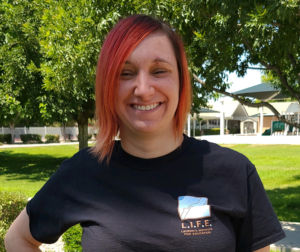 JESSICA SOLARI
Speech-Language Pathologist (M.A.,CCC-SLP)
Education:–
B.A.A. in Communication Disorders, Central Michigan University (2007; took graduate studies for the Spring semester in 2008); Minor in American Sign Language (ASL)
M.A. in Speech-Language Pathology, Western Michigan University (2010)
Specific Treatment Strategies, Equipment, or Expertise Utilized:
Universal Design for Learning (UDL) and Total Communication (Augmentative and Alternative Communication (AAC), American Sign Language (ASL), aided language input, etc.)
Social Thinking curriculum (Zones of Regulation, Social Thinking curriculum/philosophy, Social Behavior Mapping, Superflex, etc.) – attended 3-day presentation/training
Expanding Expression Tool (EET) for vocabulary
Fluency Disorders (Stuttering and Cluttering)
Selective Mutism
Non-violent Crisis Prevention Intervention for behavior/emotional impairments
Articulation and phonology therapy (Cycles)
Literacy incorporated into sessions (use of Story Grammar Marker (SGM))
Speech and language for functional activities of daily living
Voice Disorders (vocal fold paralysis and cleft palate)
Statewide Autism Resources & Training Project (START training)
Career History:
I was fortunate to volunteer for a summer camp for 12 years that provided therapy for children with different abilities, blogged and presented nationally for three years about speech therapy, and volunteer my time attending Out and About on some weekends with children who use AAC in the community – so I live, eat, and breathe speech-language pathology. I have been in the school system for my entire career with clinical experience in the summers and some weekends. I have lived in Michigan for the majority of my life, but moved to Arizona for the weather a few years ago. In Arizona, I have supervised multiple SLPAs and was the co-lead of the speech department at one school district. I started working at L.I.F.E. in the summer of 2019 as a supervisor for one of the SLPAs and loved the philosophy and opportunities for children on campus so much that I came back full time in the summer of 2020.
Personal Treatment Philosophy:
I personally believe in following the child's lead in therapy, being honest about goals of therapy with each child, and finding out their interests as well as what they would like to get out of therapy. I love to incorporate both literacy and play into therapy as much as possible. Finally, I believe in a Universal Design for Learning where all children can participate and be included as well as using Total Communication with children so that they can communicate in the way most effective for them. Therapists, teachers, and caregivers as well as the child themselves should all be involved in care and progress, modeling communication strategies throughout the day with as many communication opportunities as possible.
Personal:
I am nerdy and very social in my free time, so if you see me out in the community, feel free to wave! I enjoy trying new foods, attending festivals and concerts, watching movies and television, playing video games, and much more!
Contact Us

for More Information About

L.I.F.E.
call us at 480-621-8361 EXT 136 or complete this form